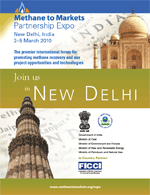 Download Print-Ready Files:
Brochure
(PDF, 8 pp., 5.9 MB)
Flyer
(PDF, 2 pp., 644 KB)
Flyer in Chinese
(PDF, 2 pp., 252 KB)
The World's Largest Forum for Methane Projects, Technology, Financing and Policy
The Methane to Markets Partnership Expo is the premier international forum for promoting methane recovery and use project opportunities and technologies. The first Expo was held in the 2007 in Beijing, China and included more than 750 participants from 34 countries.
The second Partnership Expo was held in India, an emerging market with the world's second largest population and one of the fastest growing economies. The country has methane capture-and-use projects in agriculture, coal mines, landfills, and the oil and gas sector - and with rapid growth, increased urbanization, and rising energy consumption, opportunities in these four Methane to Markets sectors are quickly expanding.
The Expo's Comprehensive Program Featured:
Four sector-specific conference tracks:
Key methane capture and use technologies and policy issues as well as key barriers to project development and how to overcome them.
Methane Marketplace:
Methane recovery and use projects ripe for immediate financing or implementation, as well as technology providers showcasing the latest products and services.
Partnership working meetings:
Government and industry discussions on how Methane to Markets can effectively promote methane capture and use projects and activities around the world.