Energy Developments PTY Limited (EDL): Abatement of Waste Methane from Coal Mines and Biogas from Landfills
EDL focuses on transitioning from traditional energy sources to sustainable decarbonized solutions. They own and operate power stations in Australia, North America, and Europe, which have produced 1,078 MW of sustainably distributed energy. EDL's actions have reduced methane emissions by 19 million tons of CO2e annually. This equates to removing approximately 5.7 million cars from the road every year. Actions include work in the coal mines and biogas sectors, and in hybrid solutions that include various types of renewable energy.
Waste Methane from Coal Mines
Coal mine methane (CMM), a waste coal mine gas (WCMG), is produced during the coal mining process when methane gas that is trapped in coal seams is released. Historically, CMM has been a waste product that is vented or flared. EDL has created processes to extract and use the methane as a power generation fuel, and its power stations convert WCMG to electricity for the national electricity market, significantly reducing greenhouse gas emissions.
| | |
| --- | --- |
| EDL's German Creek Power Station in Queensland, Australia | EDL's Moranbah North Power Station in Queensland, Australia |
| EDL's Appin Power Station New South Wales, Australia | EDL's Tower Power Station in New South Wales, Australia |
Biogas from Landfills
EDL owns and operates landfill gas powered stations in Australia, the United Kingdom, and North America. EDL is currently developing four renewable natural gas (RNG) projects in the United States, where biogas from landfills will be converted to RNG and used to replace conventional natural gas. When used in vehicles, RNG provides 85 percent reduction of CO2 emissions relative to diesel.
| | |
| --- | --- |
| EDL's Brent Run Generating Station in Michigan, United States | EDL's Pitsea Landfill Gas Power Station in Eastern United Kingdom |
| EDL's Lidya Energy Power Station in Lachute, Canada | EDL's Clayton Power Station in Victoria, Australia |
Hybrid Renewable Solutions
EDL has supported remote communities and mining operations with cleaner natural gas solutions by displacing diesel-fueled electricity generation with liquefied natural gas and compressed natural gas virtual pipelines up to 1,000 km. This innovation is being augmented with hybrid renewable solutions. EDL currently owns and operates three hybrid renewable power stations, which are displacing between 10 and 75 percent of fossil fuel consumption with wind and solar generation to reduce emissions.
EDL is involved with the Stage 2 Agnew Gold Project in Australia, which will increase renewable penetration by displacing up to 55 percent of fossil fuel use, making this operation the largest remote hybrid renewable project in the world.
EDL owns and operates 100 power stations across five countries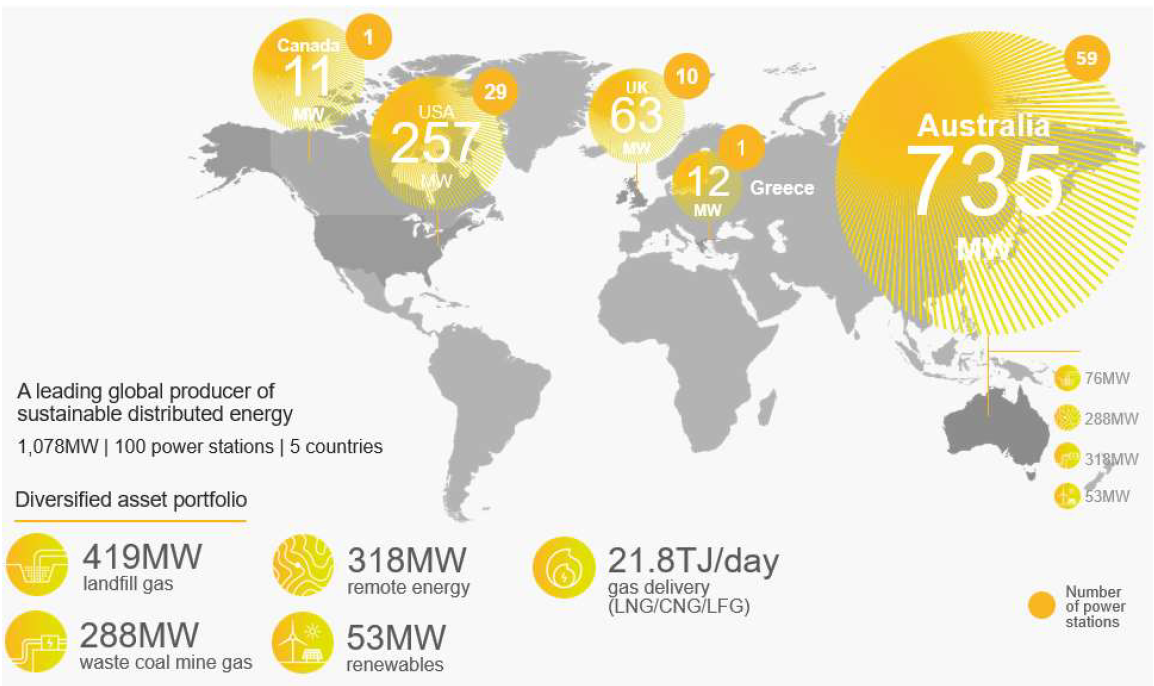 ---